Prayer Points  
Pray for Peace
Since October 2017, there have been attacks in rural villages in the province north of us, with homes burned and villagers murdered.  it has been confirmed that the attacks are by a movement of disaffected, unemployed and impoverished young men calling itself Ahlu Sunnah Wa-Jama – "Followers of the Prophetic tradition".  The people in the villages sleep out in the bush at night, and have avoided walking through the bush to get to their crops as the attackers strike at night and in isolated places.  So there is a growing hunger problem as people can't access their food.
A night time curfew has been put enforce in the areas the group is residing and the police are doing all they can to defuse the group who do not seem to be armed with guns.  
YWAM National Staff Conference. 
We are in full gear planning and preparing mode and we are looking forward to what God will do with our time together.  Here are our prayer requests:
1. Pray for a special team to work with all the children (Missionary Kids!) during the conference.  We will have around 50 children ages 2 to 17.  Pray for God's provision of the right people so that the children and youth can also come away from the conference blessed!
2. Our team to be able to organize all the details in a timely and smooth way.
3. For humble hungry hearts with plowed soil, ready to receive God's Word so that it can produce 100x the harvest.  Pray for God's Spirit to bring His supernatural unity and love in our midst.  In our unity, God is glorified!
4. Pray as we invite local pastors, that they would gain a vision for missions and how their churches can be involved.  Pray for YWAM as we process together how we can better partner with and serve the local churches.
Outcome:  The conference was attended by 220 people, we had a blessed time together. See a full report on our Facebook page. 
The end has come. A new beginning awaits. 

The 2017 Discipleship Training School (DTS) graduated at the end of October. We had a memorable graduation ceremony and celebration time followed by hours of debriefing. Each student has sought the Lord with regards to their next step of faith. For each one, there is a call to action. For some it may not look much differently to how they lived their lives before the school started in May, only with a profound understanding of how they and their communities need to change. For others it means starting something new, sometimes in a new place as a full time missionary.
Please pray for these families and individuals as they step out to obey the Lord.  
Going Higher!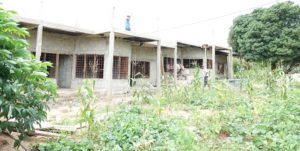 For over a year we have been building accommodation to house families who come and attend our 12 – 24 week full-time training. As a mission and as a base we hold fast to the value that family matters to God and so prefer that married people remain with their family. In this way the entire family grows in faith together.
In 2017 we used the bottom floor of this our newest building to house some of our DTS students. Now the school is over, we would like to continue work on it to add a second floor. The cost of the second floor is considerably lower as the foundations and flooring is already laid.
Please pray with us for the financial needs to complete this building. 
Praise God, the second floor is going up! The walls are build, the roof still needs to go on.